Dabei seit

15. März 2009
Beiträge

10
Reaktionen

1
170cm, leicht
*
, CF-Rahmen mit zwei Metallriegeln, kreuzsaitig, PHOENIX-System mit CF-Resonanzboden, CF-Gehäuse, CF-Beine (ohne Rollen), WNG-Mechanik, Brücken und Klaviatur aus Holz ...
Ich poste hier ein paar Neuigkeiten zu dem o.g. Projekt von Richard James DAIN, die vielleicht von Interesse sind. Neben ein paar Fotos gibt es auch drei kurze Artikel, die ich hierher "paste" (in original Angelsächsisch, mit Quellenangabe), um beim Lesen nicht immerzu neue Links verfolgen zu müssen.
Richard J. DAIN, der als pensionierter Ingenieur (FREng) auf seiner
Hurstwood-Farm
(
Hurstwood Farm Piano Studios
) in Sevenoaks, Kent (GB), nicht nur über dem hier vor einiger Zeit besprochenen und bereits 2008
prämierten
PHOENIX
-
System
(Pat.
1
,
2
,
3
) und der
Zukunft des Klaviers
brütet,
baut
und
vertreibt
ja inzwischen in Kooperation u.a. mit Udo SCHMIDT-STEINGRAEBER nicht nur Flügel und Klaviere seiner eigenen Marke "PHOENIX", sondern betätigt sich nicht zuletzt auch erfolgreich im
Haselnußanbau
.
Das "Composite Piano" wurde der Öffentlichkeit erstmals auf der Musikinstrumentenmesse
"Cremona Mondomusica/Cremona Pianoforte"
, 28.-30. September 2012, Cremona (I), und danach auf der "Composites Engineering Show", 7.-8. November 2012, Birmingham (GB) sowie auf der
"JEC Europe 2013"
Composites-Ausstellung, 12.-14. März 2013, Paris (F), als Prototyp vorgestellt. Auf der letztgenannten Ausstellung wurde es im Rahmen der
"Innovation Corner"
unter den
innovativsten Composite-Exponaten
präsentiert.

Cremona Mondomusica/Cremona Pianoforte, 28.-30. September 2012, Cremona (I)
"The Composite Piano"
In: Connect for Engineers and Business Leaders, p. 4, In: Air Talk, Winter 2012
Retrac Composites Ltd was approached by Hurstwood Farm Piano Studios and Simpact Engineering Ltd in June 2011 to discuss the possibility of manufacturing a revolutionary design carbon composite prototype piano. The R&D project was to be a collaboration of five companies, who would individually contribute to knowledge, design, material manufacture and composite component manufacture. The Companies would embark on a journey not only to test the boundaries of composite design, but to work together and be a part of the first major piano conceptual design change for well over a century, which would surely change the whole industry as Theodore Steinway's new piano did in 1886 and a century before with Cristofori's first instrument with escapement operated percussion hammers in a world that only knew Harpsichords and Clavichords. Carbon Fibre was chosen to construct a piano because of the following properties.
• Weight
• Performance and sound quality
• Stability
The collaborating companies, Simpact Engineering Ltd, Creactive Design Ltd, Retrac and SAATI developed the innovative design concept proposed by Hurstwood Farm Piano Studios with them into an engineered solution. The project got underway in November 2011 with the manufacture of hand-crafted patterns. Split mould tools were manufactured from the patterns to form the larger sections of the Piano's design. With moulds manufactured and materials delivered, Retrac Composites Ltd started the production of the prototype components in March 2012.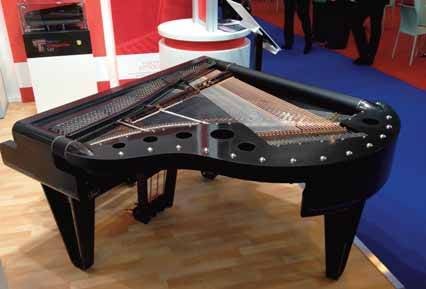 The Composites Engineering Show, November 7th-8th 2012, National Exhibition Centre (NEC), Birmingham (GB)
Here is an extract from a letter from the customer to Retrac:
"We are really delighted with the outcome. You have demonstrated the very best that earns British engineering its reputation; you should be rightly proud of a great achievement. I and my colleagues know this standard is only achieved when those who do the work are truly dedicated to its success. There can be no question that the team at Retrac who worked on the piano had that dedication to our project."
After weeks of manufacturing effort and well over 1000 man hours of labour in composite production of the prototype, the Piano was finally ready to be unveiled to the musical world at the Cremona Mondamusica festival in Italy, (the home of Cristofori's original piano), on 28th – 30th September 2012.

The Composites Engineering Show, November 7th-8th 2012, National Exhibition Centre (NEC), Birmingham (GB)
"The Revolution in Carbon Fibre Piano Design is here!"
At: SIMPACT Engineering Ltd (GB)

See the carbon fibre prototype at the NEC Composites Engineering Show. 7th-8th November
In our five year engineering development project for Hurstwood Pianos Studios and Phoenix Piano Systems, the first carbon fibre piano design out of the mould will be on display next week at the National Exhibition Centre, Birmingham.
The piano will be displayed on the stand of Retrac Composites who were commissioned to build the first prototype model using their vast amount of experience in the building of complex systems in carbon fibre.
Simpact Project Manager, Dr Dirk Landheer said that without the application of modern virtual design and analysis techniques, this achievement would have been unthinkable. A combination of 3D digitisations, CAE and CAD has produced an advanced design which materialises the design concept of Mr Richard Dain, Chairman of Hurstwood Farm Piano Studios. It has some important acoustic as well as innovative functional qualities and only weighs around one third
*
of a traditional concert grand.
SAATI, global manufacturer of a wide range of specialist fabrics in carbon, manufactured and supplied the specific composite material for the piano.
The frame of a piano has to withstand string forces in excess of 100kN which is why all pianos for the past 150 years have been built around large and very heavy cast iron frames. The concept of introducing a low mass and high strength material in an acoustic environment was identified as a significant challenge right from the start of the project but using advanced modelling techniques grown from modern OEM development, it has been a complete success which is now being confirmed by the prototype.
Teil 2 folgt
...
Zuletzt von einem Moderator bearbeitet: